AUTOBIOGRAPHY
Familiarities
I came to be the 2 HAHA 77 or in a vulgar kind of way at a.m. 10.32 the 7th of October 1950, as a balanced Tiger one way or the other. One year after my sister died and almost ten years after my brother was born. My father, who was an organist, died when I was eleven. The same year I came across the works of Bob Dylan, who became my spiritual father. My mother worked in an office and lived till she was 90. She was always a good friend. Inger shared my roads for many years, which took us around and about. Donzy in France became a retreat. Our son Erik is the dearest blessing. Anette and Jiro the dog brought me around for a while, opened up my eyes for some good and the evil. Finally Christina came to guide me. So here I am in these days, in Malmö and Nice with Tord, Erik, Maria and my wonderful grandchildren Mr. Theodor Adlers, le jeune homme Theo d'or and beautiful Ms. Beatrice Adlers. Christina, Caroline, Mr. Axel, Catinka, Ms. Tilde, Ms. Fanny, Martin, Cornelia, Mr. Max and Ms. Alva.
In the mindbox
Arts&Crafts is a project where the material of everyday things determines the poetic comments in the objects themselves.
Count on me/Räkna med mig is a project where each figure between 0 and 9 decide if the work of art is a poem, a sculpture, a novel or a painting.
From the Bottom of My Art is a book in progress.
Artifacts
Bob Dylan made me write songs and perform them as himself. Songs brought me to the fields of poetry around 1965. Salvador Dali showed me in these years that anything is possible. Watches can be soft and time is just figures. Dada and surrealism took place in my mind for good. Poetry is everywhere, in collections of poetry even. Finishing the university studies, I began working as a curator in different kind of art contexts. Take a look at my CV if you like. Many artists became friends and mentors at different stages of my life. New relations are being built up all the time, some short some everlasting. In the early 1970-ies, Carl Fredrik Reuterswärd and Stefan Wewerka opened up the doors to the international scene and locked up the gates to my own selfhidden creativity at the same time. Fluxus and related artistic fieldbreakers became my family and Erik Dietman my big brother. I never felt borders between the arts, and it interested me in working with artists within music and words. The co-operation between the composer and guitarist Christer Persson has meant a lot to me as well as his colleagues Conny C-A Malmqvist and Terje Thiwång. The artist and publisher Leif Eriksson believed in my works, and he has published most of my books. HC Ericson has given me thrills and troubles as a great cousin. My works of art have been shown in many places. My exhibitions are listed in the usual boring way. Mats B. is always around somewhere, even if he is not here. We could in a sense be eachothers shadows, caught in the spiral of pataphysics.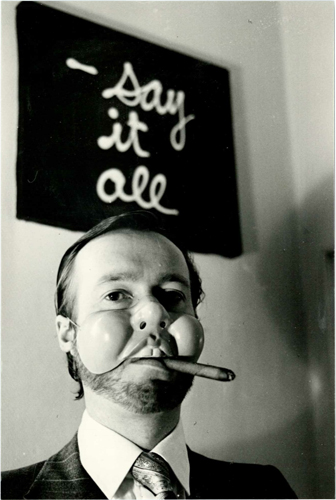 CV
| | |
| --- | --- |
| 1950 | född i Malmö |
| 1973 | Fil. kand. vid Lunds Universitet (Konstvetenskap, Nordisk och jämförande arkeologi och Etnologi) |
| 1973-1987 | Utställningsansvarig på Galerie Leger, Malmö |
| 1977-1983 | Adlers Editions |
| 1988-1995 | Galleri Bengt Adlers |
| 1995 | Utställningsansvarig för Forum Final!, Malmö-Lund |
| 1995-1996 | Konstkonsult för Kulturbro Malmö-Lund |
| 1995-1996 | Projektledare för Stenkraft, Breanäs Kulturhus |
| 1996-1997 | Projektledare för Stenminne, Breanäs Kulturhus |
| 1996-2004 | Konstskribent i Kvällsposten |
| 1997-2002 | Intendent för Skånes Konstförening |
| 1997-2002 | Utställningsansvarig på Kabusa Konsthall |
| 1998-1999 | Projektledare för De vises sten, Breanäs Kulturhus |
| 1999-2000 | Projektledare för Byggstenar, Breanäs Kulturhus (Kulturbro 2000) |
| 2000-2001 | Projektledare för Landmärken, Breanäs Kulturhus och Contemporary Art Centre i Vilnius, Litauen |
| 2001-2002 | Projektledare för Housewarming, Breanäs Kulturhus (Kulturbro 2002) |
| 2002-2008 | Chef Växjö Konsthall |
| 2008-2013 | Konstintendent Dunkers Kulturhus, Helsingborg |
| 2010-2015 | Ordförande i Torsten Anderssons stiftelse |
| 2015- | Praktikant / Konsult Drömmarnas Hus, Malmö |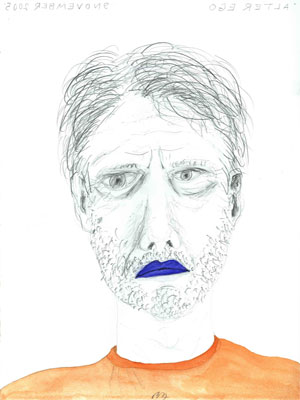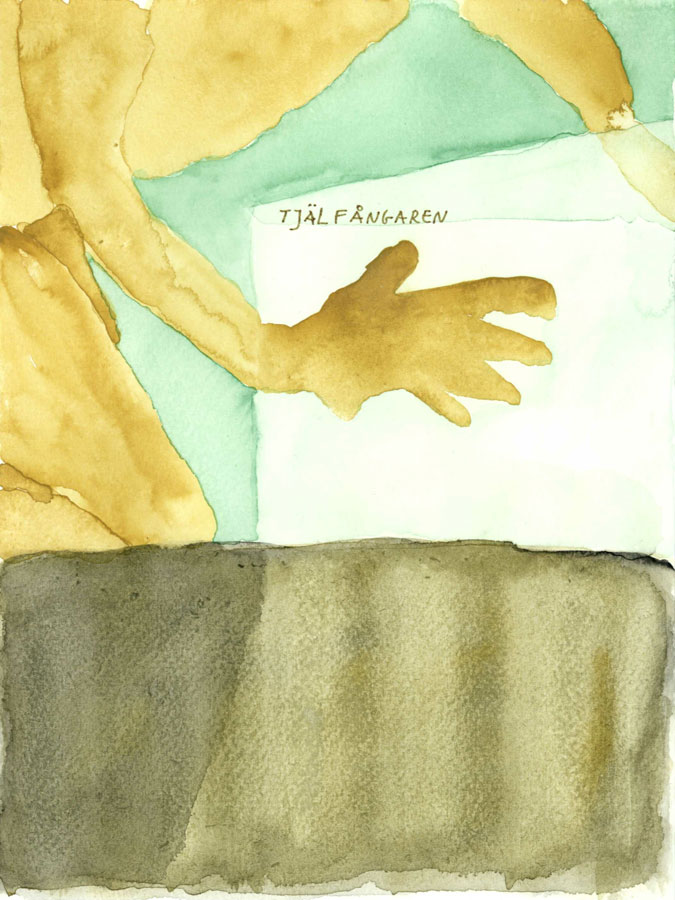 My exhibitions sort of
Solo exhibitions
ART 13´82 Basel
, ECART Genève 1982
G l or i a
, Galleri Wallner, Malmö 1983
Jafndaegur á Vori
, The Living Art Museum, Reykjavik 1985
BOK
, The Corridor, Reykjavik 1986
From The Corners Of My I
, Galerie Leger, Malmö 1987
Malar, fraktaler och andra fula fiskar
, Galleri Malen, Landskrona 1989
´motional poem
, The Corridor, Reykjavik 1991
Arts & Crafts
, Galleri Saevars Karls, Reykjavik 1992
Arts & Crafts
, Alli Poli Gallery, Thessaloniki 1993
Fågel, fisk och mitt emellan
, Arbetets Konstförening, Malmö 1995
Fula fiskar
, Stadsbibliotekets Konstklubb, Malmö 1995
Immeln & Vidgade Vyer
, Galleri Persson, Malmö 1998
Immeln - mitt emellan fågel och fisk
, galleri . en trappa upp, Breanäs 1999
Helgedomar & Helgerån
, Malmö Konstmuseum 1999
Kabusa-sviten
, Kabusa Konsthall 2001
Fisk och Mitt emellan
, Pauliskolans Kulturförening, Malmö 2002
Nice Souvenirs
, Galleri Persson, Malmö 2003
Hederliga arbeten
, Alvesta Konsthall 2003
alla goda ting är tre
, Galleri Planket, Växjö 2004
Visten
, Lilla Galleriet Helsingborg 2010
Från millennier till sekler
, Galleri Persson Malmö 2012
Visten vid vatten
, Kulturhuset Vita skolan, Broby, 2016
I vått och torrt
, Galleri Ping-Pong Malmö 21/9 – 12/10 2019
Pilgrim
, Limhamns Konsthall 22/2 – 15/3 2020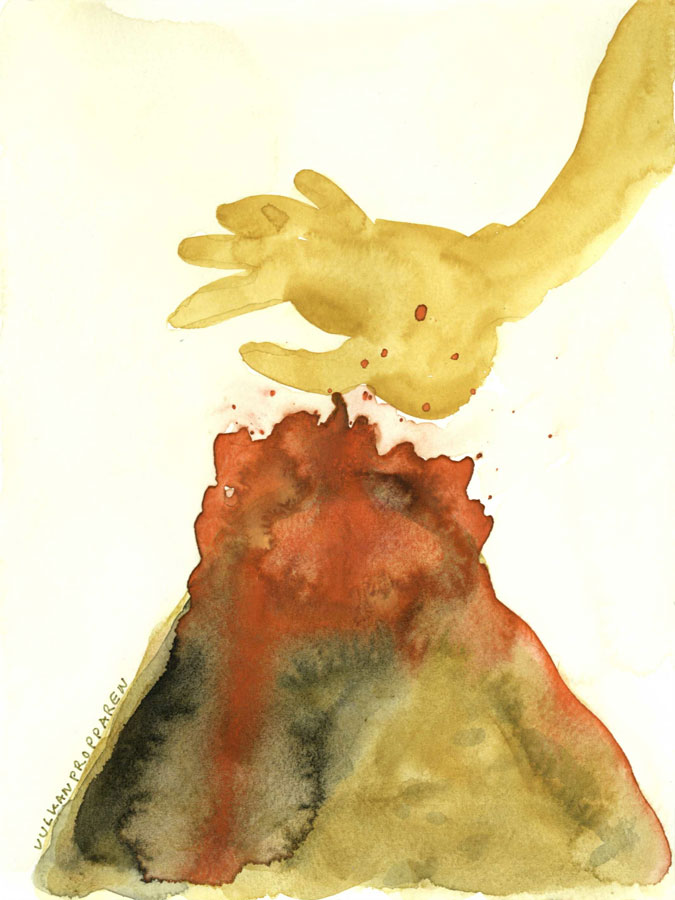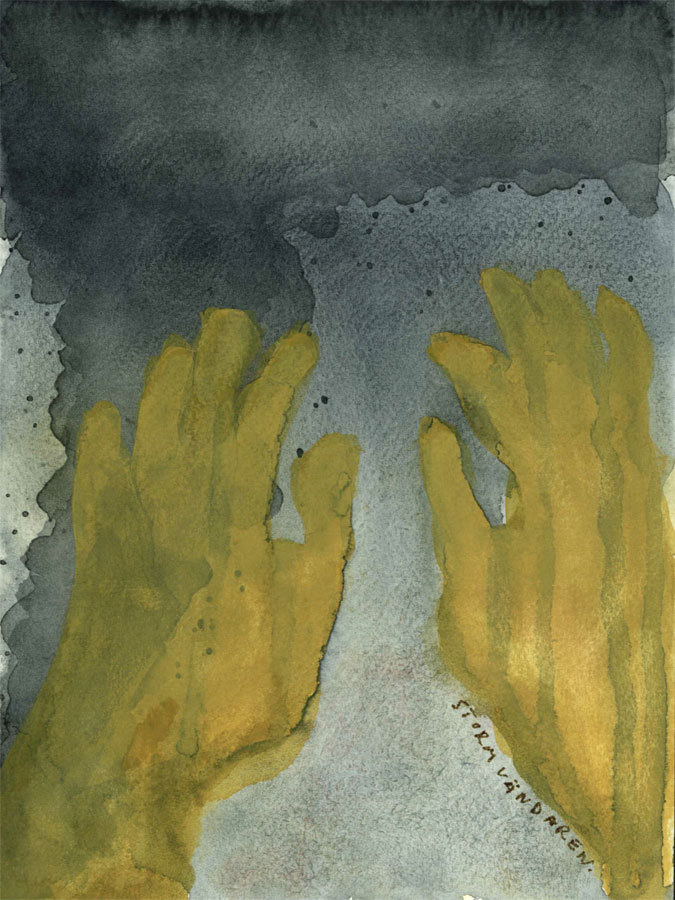 Group exhibitions
Contents: Objects, Piles and Boxes, Micro Gallery, Sacramento 1979
Kunst Info Fenster, Würzburg 1979
Mail Art Festival, Galerie Lara Vincy 1979
Kunst og Grönt, Holbergsgade 19, Köpenhamn 1980
Uden Titel/Comments, Frederiksberg Rådhus, Köpenhamn 1980
Bodies of Artists, Nordjyllands Kunstmuseum, Aalborg 1981
Hjörring Annual Film Festival, Hjörring Kunstmuseum 1982
Target Earth, Double Rocking G Gallery, Los Angeles 1982
Ny Fotokunst, Nikolaj, Köpenhamn 1982
Biennale de Paris, 1982
ART 14´83 Basel, Galerie Renate Fassbender, München 1983
Megalithic Tomb Project, Drents Museum Brink Assen(NL) 1983
Taboo, Raft, Thessaloniki 1983
Mail Art About Mail Art, Dallas 1983
BOOKART, Hvidovre Kunstbibliotek 1983
BOOKART, Galleri 25, Haderslev 1983
BOOKART, Lyngby Kustbibliotek 1984
BOOKART, Gladsaxe Bibliotek 1984
Mail Art Slides, Hvidovre Kunstbibliotek 1984
Mail Art Slides, Huset, Köpenhamn 1984
Mail Art Slides, Jomfru Anne Teatret, Aalborg 1984
FAR-Frites Art Research, Cultural Centrum, De Borre, Bierbeck(B) 1984
The Yellow Error, Händer, Stockholm 1984
Mini, Galleri Wallner, Malmö 1984
Offset: A Survey of Artist´s Books, Hera, Wakefield, Rhode Island 1984
Kein Krieg in meiner Stadt, Minden, Soest, Braunschweig 1984
Mail Artist with Camera, Huset, Köpenhamn 1984
Artist´s Books, Grafiska Sällskapet, Stockholm 1984
Mail Art, Club of Young Artists, Budapest 1984
T-SHOW, Galleri Specta, Århus 1984
North 10 år, Fyns Kunstmuseum, Odense 1986
LITTEARTURE, Kunsthallen/Brandts Klaedefabrik, Odense 1987
Gangurinn 5/The Corridor 5 (lino), The Corridor, Reykjavik 1989
Super 8 film festival, Halmstad 1991
Mailed Art in Uppsala, Gamla Gillet, Uppsala 1994
K-Banan, Kinnekulle 1994
Sista Skriket, Galleri Bengt Adlers, Malmö 1995
Visual Poetry 1985-1995, Balatoni Museum, Keszthely 1995
Konst i bokform, Röhsska Museet, Göteborg 1998
Konst i bokform, Form Design Center, Malmö 1999
South City Drawings, The Pineapple, Malmö 1999
Granen, Galleri Persson, Malmö 1999
The Corridor 20 Years, The Corridor, Reykjavik 2000
The Corridor 20 Years, Reykjavik Art Museum-Harbour House, Reykjavik 2000
-, La Couronne, Malmö 2003
Tretydigt, galleri m1, Italienska Palatset, Växjö 2004
4D, Artpool, Budapest, Ungern 2004
Expression contemporaine, Maison des Artistes, Cagnes-sur-Mer 2005
ParaStamp/Artpool, Museum of Fine Arts, Budapest 2007
Tänd mörkret!, Ystads konstmuseum, 2008
Kilroy was here, Bistro La Couronne, Malmö 2008
Svensk Konceptkonst, Kalmar Konstmuseum 2010
Medlemsutställning/Multipel-pingis, Mediaverkstaden, Galleri Ping-Pong, Malmö, 2014
Dold konst, längs Göta kanal, Ljungs slott, Östergötland, 2014
Multipel.nu ger färg åt konsten, Konstfrämjandet Skåne, Malmö, 2015
Dold Konst-Hidden Art, Kungsparken och Slottsparken, Malmö, 2015
Kilometre of Scultpure, Working Drawings And Other Visible Things On Paper Not Necessarily Meant To Be Viewed As Art (Mel Bochner), Võru, Estland, 2015
Dold Konst-Hidden Art/Artpit, Tivoliparken, Höganäs 2015
HELVETE, multipel.nu. Galleri Ping-Pong, Malmö och Ystads Konstmuseum 2016
Working Drawings And Other Visible Things On Paper Not Necessarily Meant To Be Viewed As Art (After Mel Bochner), Skuc Galerija, Ljubljana, Slovenien, oktober 2016
Konstnärsgjorda böckerLunds Konsthall, 2016
22x16, Galleri Rostrum, Malmö, 10/12 2016
Working Drawings And Other Visible Things On Paper Not Necessarily Meant To Be Viewed As Art (After Mel Bochner), CAC Bukovje/Landskrona, 2017
OEI#79, Moderna Museet, Stockholm 17/2-1/4 2018
MABB2018, Malmö Konsthall 11/4-22/4 2018
L´Art des Arbres, Collegiale Sainte-Croix de Loudun
Alltjämt mindre, alltjämt vackrare, Pequod visar:, Malmö, 2019
The Corridor 40 Years, The Corridor, Reykjavik, 2020
ARTiE, Eslövs Konsthall #9, c/o Poste Restante, 2020
Ord som Bild/Bild som Ord 2020, Rostrum/Studio 2, Mitt Möllan , Malmö, 2020
Timglaset editions, Malmö Konsthall 2021
Alphabet in Decay, Timglaset editions, Etkbooks gallery, Bern, Schweiz, 2021
Alfabet I sönderfall - Visuell poesi bortom språk, Kulturhuset, Stockholm 7-28/2 2022
Forty Years of The Corridor / Gangurinn Gallery, Listasafn Islands/National Gallery of Iceland, Reykjavik 3/2-4/6 2023

My books and other stuff
Books
Interviews of Internews, Kalejdoskop 1978
The Poetry of Mickey Spillane, Wedgepress&Cheese 1980
The Hits of T.S. Eliot, W&C 1980
Poetry Try Poe & Verse Vica, W&C 1982
La Poésie de Donzy, W&C 1983
Eiriks Saga, The Living Art Museum 1985
BOK, Litlu Baekurnar 1986
Rock Age Poetry, W&C 1986
Dix Poèmes, W&C 1986
From The Corners Of My I, Hong Kong Press 1987
Torsten Andersson, Sören Fogtdals Förlag 1994
Fabelhäfdikt, Konsthallen i Hishult 1995
TRIX, W&C 2000
SEX KEX, W&C 2000
Jagumaj, W&C 2006
BOOKACTION, monotypi 1980/2007
Frutti, Pequod Press 2010
Novelties (The Very Best Novel, 1976/The Book of Matters, The Second Best Novel, 1977/Sirap i Paris, The Very Worst Novel, 1977), OEI editör 2013
Att söka finna en mening, CHATEAUX 2015
My Sacret Diery, OEI editör 2018 review
Novità Letterarie, Tic Edizioni, Roma, 2018
Poetry Lost, CHATEAUX 2018
Bland Gester, Timglaset editions, 2021
A VOID, CHATEAUX 2021

Tape
The Music of Sören Kierkegaard, Engletrykk 1982
CD
TUTTI, Trum Trum HB SRTTCD4 1996 (with Christer Persson)
Helgedomar & Helgerån, (12 ex) 1999 (with Christer Persson, Conny C-A Malmqvist & Terje Thiwång)
Den Andra Kinden / Cheek Two Cheek, Oei, 2007
Music
Audibiography
, 1965-1970
CAGED
, 1979
The Music of Sören Kierkegaard
, 1982
With Ice & Dice
, 1985
The Music of Carl Linnaeus
, 1987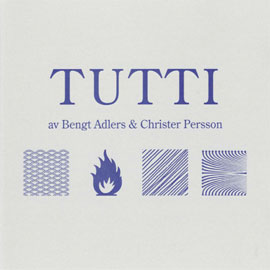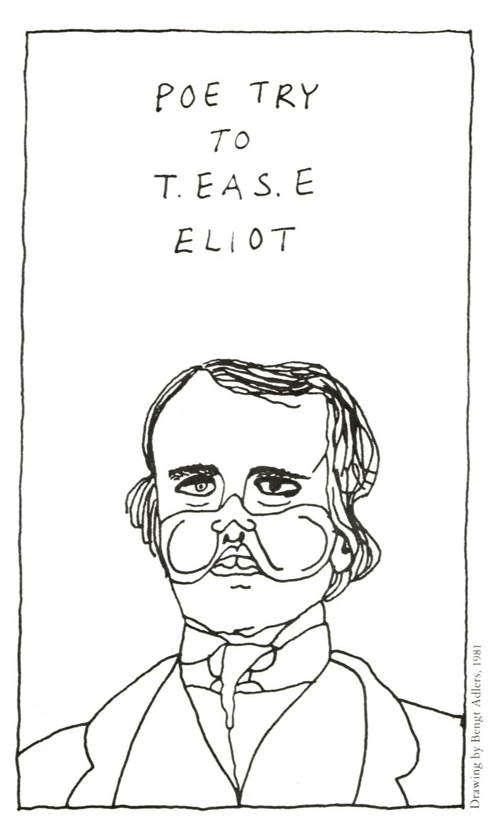 Participated in performances and poetry recitations etc
Fluxus (med Ben Vautier), Malmö Konsthall april 1979
Freddy Fraek, Nikolaj, Köpenhamn 14/1 1983 (Video)
Hungerford, Jim´s Bar, Malmö 28/2 1989
MOB SHOP IV, Viborg 7-27/8 1989
Fabelhäfdikt, Jim´s Bar, Malmö 28/3 1995
Sex och Kex, Perssons Kök, Galleri Persson, Malmö, 23/1 1998
Poesi utan gränser, Hipp, Malmö, 27/8 1999
Stora Författardagen, Fredmans, Malmö, 29/10 1999
I Jan Östergrens anda, Malmö Stadsbibliotek, 10/2 2000
Till Bertil Lundbergs minne, Malmö Museer, 15/2 2000
beatfest, Malmö 8-10 september 2000
Poeternas Estrad, Tegnérs, Lund m. Katarina Frostenson, 27/3 2001
Birgit Hanssons 50-årsdag, Jeriko, Sex Kex, 15/6 2001
Poeter mot krig, Ordtältet Malmöfestivalen 2003
Växjö Poesifestival, 14 maj 2004
Poesifestival 2006 i Lund, Kulturnatten 23/9 2006
Poesicafé, Växjö Stadsbibliotek 28/2 2007
Växjösamtalet, Växjö Konserthus, 15/3 2007
Göteborgs poesifestival, 26/10 2007
Kontrapunkt, 6/11 2007
Index, Stockholm 16/3 2011
Pequod-kväll, Galleri 21, Malmö 24/5 2011
LitteraTur, Sommarscen Malmö, 29/6 2011
OEI poetry area: extension #22, Göteborgs Konsthall, 28/9 2013
Att söka finna en mening, Söderbokhandeln, Stockholm 23/9 2015
La Poésie de Donzy, with Ben Vautier, Librairie La Sorbonne, Nice 15/4 2016
Minnesstund CFR, Landskrona Konsthall 30/5 2016
Release Timglaset #3, Östervärns Antikvariat & Bokhandel, Malmö 12/6 2016
Lunds Konsthall, 3 november 2016
Att söka finna en mening, CHATEAUX/Poesi på restaurang, New Saigon House, Stockholm, 29/5 2017
Ert hus är fult - Conceptual Art Book, Moderna Museet Malmö, 16/11 2017
LjuVisPo: Bokstavsljud och Bokstavsbild, Malmö Konsthall 22/11 2017
Redigerad söndag. Release "My Sacret Diery", OEI/Moderna Museet, Stockholm, 1/4 2018
Hårdkokt & Svårsmält, Skånes Författarsällskap, Lund 26/1 2019
How to Kill Darlings, Moderna Museet Malmö, 20/3 2019
"Poetry Lost" Poesimässan 2019, Stockholms stadsbibliotek, 22/3 2019
Promenadspråk kring Konstkiosken, 24 maj 2019
Ållebergshändelser, 24-25 augusti 2019
Stensymposium, Kulturhuset Broby, 2020
Bland Gester, samtal med Joakim Norling på Malmö Konsthall 2021-09-15
A VOID, uppläsning med CHATEAUX på Rönnells antkvariat, Stockholm 2021-10-19
Cafékväll, Drömmarnas Hus, Malmö, 2021-11-17

Concerts
From The Corners Of My I & Migrän, Galerie Leger, Malmö, 15/11 1987
From The Corners Of My I, Jim´s Bar, Malmö, 17/11 1987
From The Corners Of My I & Migrän, Lunds Konsthall, 19/11 1987
From The Corners Of My I, Totalrum, Malmö, 21/11 1987
From The Corners Of My I, POLYPHOENIX, CentreCulturel Suédois, Paris, 26/5 1988
From The Corners Of My I, Maison des Ecrivains, Paris, 27/5 1988
From The Corners Of My I, Leica, Malmö, 25/2 1989
From The Corners Of My I & Migrän, Malmö Konsthall, 12/3 1989
Elementärt (Teaterstycke), Viborg Stadsteater, 27/8 1989
From The Corners Of My I, The Corridor Reykjavik, 7/6 1991
From The Corners Of My I & Elementärt, The Living Art Museum, Reykjavik, 9/6 1991
From The Corners Of My I, Malmö Konsthall, 15/1 1992
From The Corners Of My I, Folkfesten, Malmö, 6/6 1992
From The Corners Of My I, Club Gong Gong, Rest. Möllan, Malmö, 5/4 1993
Acqva Vita/Acqva Vera, Malmö Konstmuseum, 4/12 & 5/12 1993
Acqva Vita/Acqva Vera, Razzia Kulturbolaget, Malmö, 13/12 1993
Acqva Vita/Acqva Vera, Kulturhuset, Stockholm, 28/4 1994
Acqva Vita/Acqva Vera & Fenix/Phoenix, Kulturbolaget, Malmö, 24/10 1994
Fenix/Phoenix, Malmö Konsthall, 30/11 1994
From The Corners Of My I, Kulturbro, Sydsvenskans matsal, Malmö, 10/6 1996
TUTTI, Rooseum, Malmö, 4/9 1996
From The Corners Of My I, Flux, Malmö, 8/12 1996
Helgedomar & Helgerån (med Conny C-A Malmqvist, Christer Persson och Terje Thiwång), Malmö Konstmuseum, 25/9 1999
ur Sex Kex, beatfest, malmö (med Conny C-A Malmqvist), 8/9 2000
Various texts
Carl Fredrik Reuterswärd: Abracadabra, Edition Leger juli 1975
Per Svensson, Edition Leger juli 1975
Syn-Impulser och Syn-Bilder, Stefan Wewerka´s bildvärld, Galerie Leger september 1975 samt Galleri 1 Göteborg, Galleri Larsson Gävle och Galleri Engström Stockholm
Rolf Wilhelmson: Elementa eller 1+1+1, Edition Leger oktober 1975
Rolf Wilhelmson: Klot och Verklighetsuppfattning, Galerie Leger februari 1976
Stefan Wewerka: Sweden-Strindberg, Edition Leger mars 1976
Present Projects, Edition Leger april 1976
CFR: Kring Take Off, Edition Leger 20/7 1976
Über Stefan Wewerka, Museum des 20, Jahrhunderts sept 1976
Robert Filliou: Kring Cucumberland, Edition Leger 23/11 1976
"1977", Edition Leger 1/3 1977
Stefan Wewerka - en attributation, Galerie Leger 12/9 1977
Jens Birkemose - en attributation, Decembristerna, Köpenhamn 13/11 1978
CFR: Biljard, Edition Leger april 1979
Erik Dietman - en attributation, Galleristerna Malmö-Lund 17/11 1979
Jens Birkemose, Galleristerna Malmö-Lund hösten 1980
Freddy Fraek, Galerie Leger april 1981
Gunnar Norrman, Galerie Leger/Malmö Konsthall 1982
CFR: Kites in California, Edition Leger maj 1983
Erik Dietman: kring BAR A BAR ART BARBARE…, Kunst paa Arbejdspladsen, Köpenhamn 29/6 1983
Gun Gordillo - en attributation, Asbaek/Leger februari 1984
Dionysos Grek., Carsten Regild, Reditus Lupi, Galerie Leger oktober 1985
No distance…& Abnorm, Freddy Fraek, 1985
Nära smärtgränsen, Claes Eklundh, Galerie Leger/Kalejdoskop 1986
Anita Nilsson, Galerie Leger december 1986
Curt Fors, Galleri Bengt Adlers september 1989
Vägsjäl, Jan-Owe Lewerth, Galleri Bengt Adlers 1/10 1990
Bert-Johnny Nilsson, Galleri Bengt Adlers 8/10 1991
Strömkarlen-Fågelmannen, Claes Eklundh, Beckerell 3/1992
Grötrim utan reson, Lizzie Lundberg, Galleri Bengt Adlers september 1992
Reuterswärd´s knutar, Beckerell 4/1992
BLA K SI ENCE, Beckerell 1/1993
Vad Carl von Linné förbisåg…, Skåne tur och retur, Förlaget Wiken 1993
Författaren själv, Wiken/Bra Böcker, 1993
CFR: Die Graphische Produktion bis 1990, Sprengel Museum, Hannover 1993
Acqva Vita/Acqva Vera, Pequod 6/1993
Romorantin, Pequod 6/1993
Leonardo i samtidens ljus, Malmö 1993
Minnesbilder som etsat sig fast, CFR LX, Gedins 1994
Georges Bataille och Vézelay, Pequod 9/1994
From The Corners Of My I (notbok), Citrinen 1994
Frukt och Grönt, Konsthallen i Hishult april 1995
Tidsvandring, Forum Final!, juni 1995
Stenkraft, Breanäs Kulturhus maj 1996
Kerstin Winberg, Atalante 4/1996
Max Tre Bengt, Pequod 14/1996
Gulliver (CFR), Ateljé Larsen 1996
Att våga se det osynliga, CFR, Våga Se 1996
Borta med vinden, Pequod 16/1996
Corps de Logis, Minako Masui, 1997, (publicerad 2000)
Kakofoni, Kirsten Justesen, FAMA, Nikolaj, Köpenhamn 1997
CFR, Konsthallen i Hishult april 1997
Texter i Skånes Konstförenings medlemsblad, 1997 -
Stenminne, Breanäs Kulturhus april 1997
K som i Kerstin (Winberg), Malmö Konsthalls Vänner 1997
Gullivers iver, CFR, Ystads Konstmuseum 1997
Vad John kan berätta, Nerv, nummer 0, april 1998
En sten i skon, De vises sten, Breanäs Kulturhus maj 1999
Tjälens själ, Växjö Konsthall, augusti 1999
Byggstenar, Breanäs Kulturhus, 2000
Början, Kabusa Konsthalls Vänners Bulletin, 2000
Broar, Kabusa Konsthalls Vänners Bulletin, 2000
Landmarks, Breanäs Kulturhus 2001
Kraft, Kabusa Konsthalls Bulletin, 2001
Wewerka - Tradition einer Künstlerfamilie, Georg-Kolbe-Museum, Berlin, 2001
HC Ericson, Det Kongelige Bibliotek, Köpenhamn, 2001
Housewarming, Breanäs Kulturhus 2002
Claes Eklundh, Arena förlag 2003
Poeter mot krig, Yehlah Förlag 2003
Trio con forza, Hot3, Phono Suecia 2003
Histoire de deux boites, Robert Filliou, éditions & multiples, les presses du réel, 2003
Sagan om de två bröderna i den lilla staden, 2005
Ord, Stenar berättar, Breanäs Utställningar 2006
Typiskt CFR, Växjö Konsthall 2006
Ur Christinaseder, VPI Talar nr 14 2006
Jag tänker på Marianne Lindberg De Geer, Konsthallen i Hishult 2007
Rundresa, Ars Linnaeus, Växjö Konsthall 2007
David Svensson, Växjö Konsthall 2007
Den Andra Kinden/Cheek Two Cheek, OEI #33-34-35, 2007
Tågtid, OEI #36, 2007 Enkelrum, Yngve Rådberg, Dunkers kulturhus 2008
Concrete Poetry/Trottoarens truismer, OEI #39-41, 2008
Hands On! format i lera, Dunkers kulturhus 2009
Helsingborg hjärta Malmö, Dunkers kulturhus 2009
Dreamscapes/MinakoMasui, Galleri Palm 2009
Leif Eriksson, Galleri Lilith Waltenberg 2009
Dårfink, VPI Talar vidare nr 5 2009
Dekadens, Dunkers kulturhus 2009
Carl Fredrik Reuterswärd intervjuas av Bengt Adlers, Corrupt Federal Reserve, Bokförlaget Arena 2010
Poem for Stefan Wewerka, Nahaufnahme Stefan Wewerka, Alexander Verlag Berlin 2010
Med försynen och blundern för ögonen men inte för syns skull, OEI #48-49-50 2010
Knappars vaga avtryck på tyg, Nya Upplagan 054, mars 2011
Kallmur och Hetvägg, Vägg i vägg/Anna Brag, 2011
Andra Rum, Dunkers Kulturhus 2011
OEI #52, 2011
Kors knappa märken på moln, Nya Upplagan 055, april 2011
Själars märkliga uttryck på hud, Nya Upplagan 056, maj 2011
Passion på pränt, Passion/Dunkers Kulturhus 2011
Änglars påtagliga vila i snö, Nya Upplagan 058, juli 2011
Sot, Nya Upplagan 060, september 2011
Under stor press, Dunkers Kulturhus, november 2011
Delar av ett hem, Niklas Hellberg, Dunkers Kulturhus, 2013
Att dela med sig. Om multiplar i svensk samtidskonst, Samtidskonst för vanligt folk, Sveriges Konstföreningar 2013
LES MOTS DE LA MER, OEI #63-64, 2014
Under tidens yta, ellerströms förlag 2014
Ann Blom & Måleriets Magi, Ann Blom Hopmarken, 2014
Bland de saknade bitarna, Sydsvenska Dagbladet 12/7 2015
Vykort från Trieste, Kunstkritikk.se, juli 2015
Nonsens på fullt allvar, Sydsvenskan/HD, 5/5 2016
On Time+Intervju, Timglaset #3, 2016
Skogen bakom alla träden, Sydsvenskan 15/9 2016
Ett träskrin/A wooden box, Timglaset #4 2016
Carl Fredrik Reuterswärd: Porträtt av Torsten Andersson, Vandalorum 2017
TIME EXIT, Timglaset #5 2017
Elden i hjärtat, Kunstkritikk.se, 24.4.17
Crosswords, Timglaset #6, 2017
NOW HERE/NOWHERE & MENINGEN/MEN INGEN, Conceptual Art Book, CAC 2017
Errata, Timglaset #7, 2017
Majlis Agbeck och Tidens Tyngdlöshet, Majlis Agbeck 2017
The List of Truths:, Timglaset # 8, 2018
Promenadspråk kring Konstkiosken, Konstkiosk #1, 2019
Minako Masui, 2019, Kalejdoskop förlag
Fluxus och jag, OEI #86/87, 2020
Nimis, Lars Vilks, Galleri Agardh & Tornvall 2021
Poeter mot krig, Ekström & Garay, 2022